NEW HORIZONS: DISSOLVING BOUNDARIES FOR A QUALITY REGION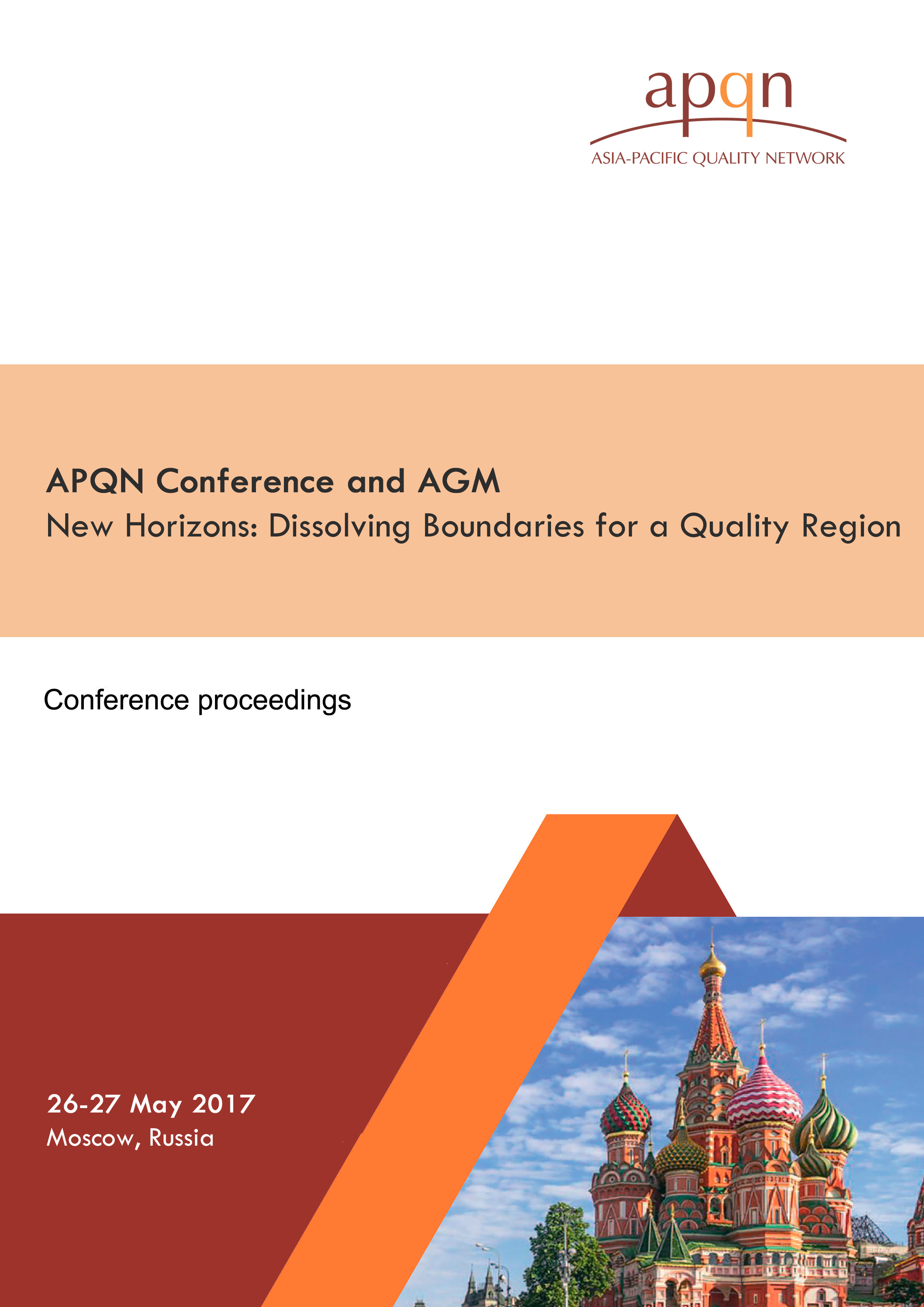 The Annual International Conference of the Asia-Pacific Quality Network (APQN) "NEW HORIZONS: DISSOLVING BOUNDARIES FOR A QUALITY REGION" was held in Moscow on May 26-27, 2017. The Conference hosted by the National Centre for Public Accreditation, took place at the Russian Presidential Academy of National Economy and Public Administration.
The proceedings of the conference reflect the latest state of research in the field of quality assurance and quality recognition in Higher Education, strategies and methods of cross-cultural education development, development of internal quality assurance system, elaboration of educa-tional programmes, education management in Higher Education, new tendencies of global edu-cation, quality assurance of transnational qualifications, accreditation of joint educational pro-grammes and new opportunities for international collaboration of universities.
The papers are grouped under three categories: Excellence in Quality Assurance, New As-sessment Methodologies in Higher Education and Internal Quality Assurance at HEIs and are open for review and discussion by any reader, depending on his/her background and interests.
UDC 378
BBC 74.48
ISNB 978-5-6040361-1-2 download
Table of Contents
Jianxin Zhangdownload
Dissolving Boundaries for a Quality Region: Cross-Border Cooperation through Quality Assurance in Higher Education in the Asia-Pacific Region
I. Excellence in Quality Assurance
Shaw-Ren Lin & Chun-Chi Chihdownload
The Innovation of Institutional Accreditation in Taiwan
Salim Ahmed Khandownload
Role of HEC in Improving Teaching Quality and Research in HEIs: A Case of Pakistan>
Siong Choy Chongdownload
Improving Quality of Teaching and Learning in HEIs: Issues in FAA Accredited Learning Programmes
Shoaib Irshad, Muhammad Shoaib & Mohammad Rafiq Balochdownload
Institutional Performance Evaluation Mechanism of Pakistan: Defining New Horizons in Quality Assurance
Jianyun Yu, Lin Zhao, Xiaocha Liang, Yanchun Sun, Ying Liu, Ying Ma, Xun Li, Zhenghui Tang & Song Lidownload
Building Up a Student-Three-Evaluation System Based on the Students' Perspective of Teaching Quality
Qiong Meng, Ying Chen, Liping He, Jianzhong Yin, Jianyun Yu, Yanchun Sun & Ping Chendownload
Development and Validation of Scale Evaluating Teaching Level of Teachers from Students in Medical University (ETLTS-MU): Combinations of Classical Test Theory and Generalizability Theory
Vera Azaryeva, Arkady Vladimirtsev, Aleksandra Zvezdov & Pavel Nikanorovdownload
Assessment Tools Development in the Framework of Complex Approach towards Quality Assurance in Higher Education
Dhakshika Kithmali Jayakodyarachchi, Himali Harshani Jayatilake, Buddhi Avanthi Malalage&Colin N. Peirisdownload
Guidance for performing teacher self-evaluation in order to enhance the quality of teaching at higher education institutions in the Asia-Pacific regions
II. New Assessment Methodologies in Higher Education
Karen Treloar&Colin N. Peirisdownload
The Quality Assurance of Online learning
Fabrizio Trifirodownload
A comparative overview of national approaches to TNE and its quality assurance
Soung Hee Kim & Kiyoko Saitodownload
Developing and Verifying a Checklist for Internal Assurance of International Collaborative Programs in Asia
Tatiana Akhmetzianova & Galina Motovadownload
Academic Programme Design and Quality Assurance Processes:  Transformation of NCPA's Vision as a Result of ALIGN Tempus Project
Fang Yuan, Lin Zhao, Yi Han, Hao Liu, Jun Sun & Yuechun Zhudownload
The international students' learning challenge and its countermeasures
Sriyani E. Peiris, Samanthi Wickramasinghe & Colin N. Peiridownload
The use of Bloom's taxonomy to assess students' performance effectively in written examinations
Alla Bakash.Sdownload
Quality Teaching in Indian Higher Education System: A Descriptive Study
Sriyani E. Peiris, Samanthi Wickramasinghe & Colin N. Peirisdownload
Relationship among Students' Learning Style, Assessment of Learning Outcomes and Students' Performances
Umesh Kumardownload
International Initiatives in Quality Assessment of Indian Higher Education: An Overview
Yin Peng, Chunrui Xi, Bisheng Chen, Cheng Qi, Xuemei Zhang & Wei Rongdownload
The integration and practice of Medical Education Standard of Chinese Undergraduates in the cultivation of medical students in Kunming Medical University
III. Internal Quality Assurance in HEIs
Amberin Tanveer & Misha Saleem Malikdownload
NEXUS between Internal Quality Assurance and Quality Culture: Evidence from Lahore School of Economics
Vladimir Navodnov, Galina Motova & Olga Ryzhakovadownload
Consideration of Public Assessment in the Accreditation Procedure of the Russian Federation
Malini Nairdownload
The Use of Education for Sustainable Development Toolkit to Enhance Quality of Teaching and Learning
Angela Yung Chi Hou, Sheng-Ju Chan & Fu Jendownload
Establishment of Internal Quality Assurance Mechanisms in Self-Accreditation Institutions in Taiwan: Has Quality Culture Been Embedded on Campus?
Elena Savinykh & Galina Motovadownload
How to Link Students' Learning Outcomes and Occupational Standards
Sheng-Ju Chan & Angela Hou Yung-Chidownload
Undergraduate Learning Assessment: University Policy and Disciplinary Culture in Taiwan
Yogesh Kumar Sharmadownload
Total Quality Management in Higher Education Institutions
Sheema Haider& Asjad Hussain Khandownload
Need of Inclusive Training in Relation to Rural to Urban Migration
Munir Hussaindownload
Macro-level Analysis of Doctoral Education in Pakistan for Pursuit of International Quality Education
Duan Yingyidownload
Analysis of Equilibrium Development of Higher Education in China Based on the Higher Education Development Index
Kerstin Fink& Jana Bekkerdownload
Accreditation of Joint Study Programmes: from obstacles to solutions (Viewpoint of a European Quality Assurance Agency)
Syun Tutiya& Jana Bekkerdownload
Joint quality assurance for campus Asia pilot programs among three countries in east Asia
Sriyani E. Peiris, Samanthi Wickramasinghe & Colin N. Peirisdownload
Developing Web based Quality Information Systems for quality improvement at the Horizon Campus